Careers at Blue Engineering
We are always looking out for reliable, enthusiastic and talented team members and are delighted you are considering applying for a role with us! We have a variety of vacancies, from apprenticeships to experienced hires.  
"Working with people who align with our values is very important to us – this is our culture, and we believe working with like-minded characters makes for a productive work environment. We are committed to ensuring a healthy work-life balance, and this is evident in our values and company perks."     

–  James Nevin, Managing Partner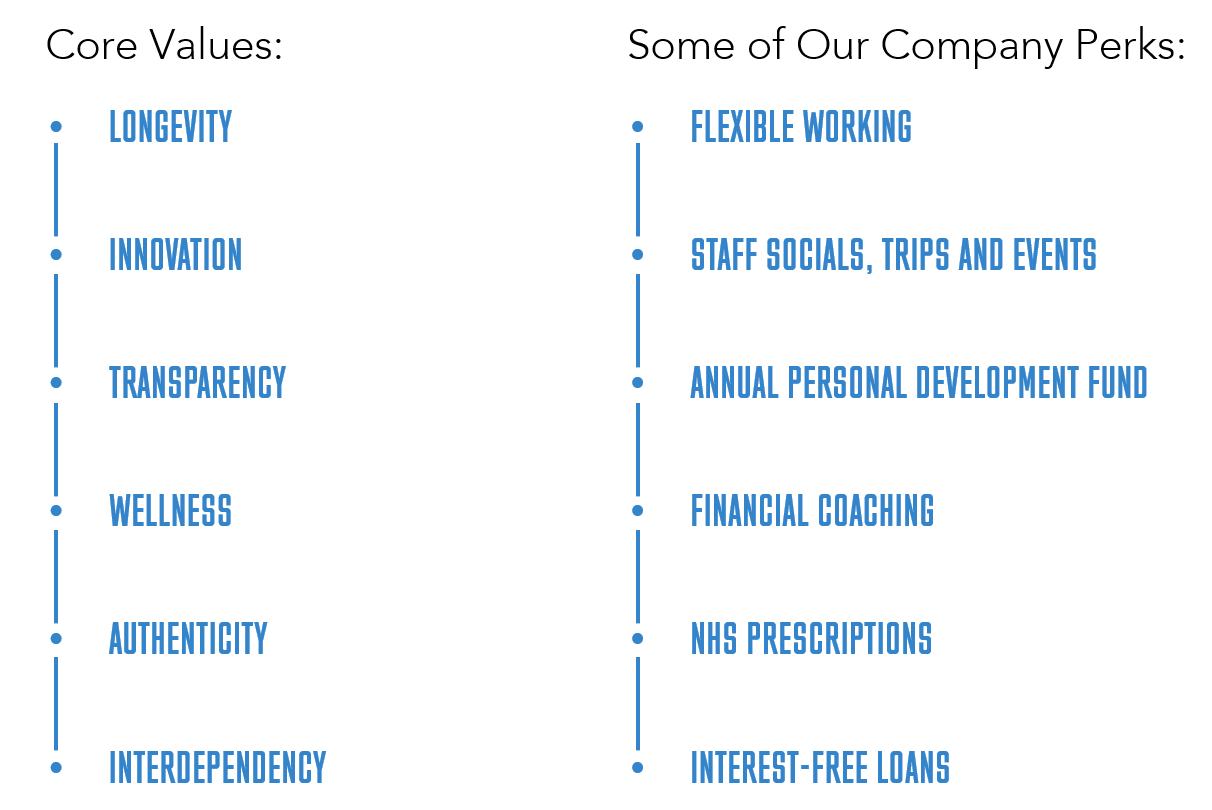 More of our company perks are in our Welcome Book, which is sent out to candidates just before their final interview.  Fair employment is a top priority for us when hiring new team members. Read through our recruitment process below for a better understanding of how we eliminate any unconscious bias!
Our recruitment process is unique! Each step has been carefully curated and considered to support successful recruitment. Going through the process itself is a valuable indication of what you can expect from Blue and our culture.
It all starts with a phone call! We ask candidates to call our recruitment line on 0203 982 8393 and leave a 2-minute voicemail introducing themselves and explaining why they want to work for Blue. 
The voicemail is classed as 'applying' for the role. A member of our team listens to every voicemail, assessing the message for quality of spoken English and reason for applying. Every voicemail application is responded to.
If qualified for the second round, we ask candidates to take a test on a date and time that suits them. The tests are bespoke to each role; they will involve solving a problem that would come up in a real-life work situation and will vary depending on experience. Instructions and information will be emailed to the candidate at the time of the test. We mark the tests and notify candidates if they have passed or failed. 
Upon passing the test, candidates are to answer a few simple questions about themselves. Why are they interested in their chosen career? What are their greatest achievements? What interests do they have outside of work? They then move forward in the process and take part in a 15-minute phone interview. The phone calls are a way for us to evaluate conversational skills and get to know candidates a little better. It's also an opportunity for them to ask us any questions about the role; or what it's like to work at Blue. 
On successfully executing themselves in the phone call, candidates are invited to the final stage of our recruitment process; the interview. It is only at this stage that we will look at CVs! This course of action eliminates any unconscious bias towards candidates in the initial recruitment stages. All decisions made during the selection process are based on how well candidates present themselves.
Your interview will be with relevant members of the team. For engineering positions, we hold group interviews, which gives us a better view of how candidates interact with the teams. It is a much more realistic set-up as all our projects require collaborative working and communication to ensure they are delivered on time and to a high standard. We focus on hiring excellent people, so if more than one candidate stands out in a group interview, we offer them all the job.
The team at Blue are on one of 12 levels, which relates to their experience and seniority within the company. Each level has a fixed salary which helps to standardise pay amongst the teams. Any offer of employment we make fits into this system.
See our open vacancies below, and best of luck with your application!