Salary: £28,000 per annum
Based in Shoreditch, London
Do you want to grow your career fast? This is a unique opportunity.
The role
A great opportunity for Graduate Structural Engineers to join Blue Engineering in one of the engineering teams. We are looking for someone who has likely just completed their Engineering degree; is eager to learn and gain valuable experience. You will be process & results orientated, ambitious, hands on, and looking to actively develop your abilities within Blue Engineering.
You will be joining one of the senior engineering teams to learn the ropes in your first 6months to a year. You will be working with the team to scheme, design, coordinate, draw and check our projects. You will not be asked to prepare the drawings unlike in other engineering firms.  You will be responsible for preparing the designs for drawing and coordinating risks, options, and opportunities with the Architects. Once you have learnt the basic in Engineering and Business, we will then create your own team to work on project work where you will continue to be mentored.
Responsibilities vary significantly with experience and knowledge. However, once settled in, the common themes are:
You will prepare good quality and well-reasoned designs.
You will coordinate designs with Architects and Clients in a service orientated manner.
You will help with keeping the team's workload organised by reporting on your progress.
You will have an internal project which will tangibly improve Blue.
You will carry out site visits for projects
You will continue to develop your career both inside and outside of work.
Progression
Blue Engineering is focused on the personal and professional progression of employees at all levels. We offer quarterly reviews where you will create a development action plan to work on over the following 3 months. We also operate a 360-degree review process, with biannual reviews in May and November. This allows for you to provide feedback on how Blue and your colleagues are doing, as well as those who work alongside you at varying levels to provide feedback on how you are doing. There will be a probation period for the first six months, where we will meet with you monthly to check in on how you are getting on.
We have 12 Levels at Blue, each with a corresponding salary. It is generally the case that providing you are sufficiently progressing your knowledge, skills and abilities, then you would go up a level each year. Below is an indication of what your first few years would look like: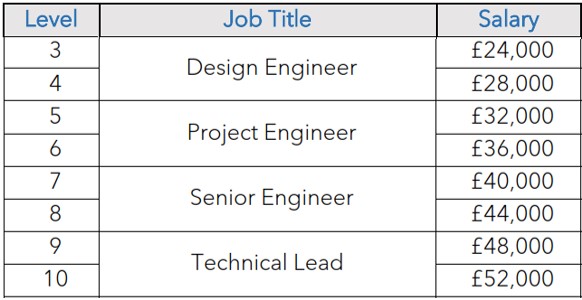 Who are we?
Blue Engineering is a leading structural engineering consultancy specialising in residential refurbishment and new bespoke home projects. We are unique in the industry due to the way we go about solving problems and growing the business. We have an excellent Client retention rate and are preparing for high growth via expanding the number of Clients we regularly service.
Blue currently employs nearly 35 staff and have a great office in Hoxton Square. You will be joining a forward-thinking group who embrace modern business practices working towards supplying our Clients with the best products and services.
Our culture
At Blue, whether individually or as a collective, we are all guided by our values.  They are the driving force of our culture and for Blue to succeed, it is important that everyone who joins us, can relate to them.  We have six commitments:
Transparency, Innovation, Proactivity, Interdependency, Longevity, Wellness
Curated by a focus group of Blue's employees, of varying roles, ages and experience; we believe that these values can lead to a prosperous working relationship, not only with our Clients and Architects, but internally within Blue's family.
A typical day
Going on a site visit in the morning
Coming into the office and scheming a project
Sitting down with the team to discuss design changes/ideas
In the afternoon, having a workload meeting to run through resources/project timelines
Call with the client
Putting together calculation packages
Your knowledge, skills, and behaviour
To be curious and enjoy exploring what is possible when presented with a challenge.
To have a Civil Engineering degree from the UK or equivalent. Have an understanding of the Eurocodes and how they applied in the UK. Are comfortable designing from first principles.
To be comfortable driving and managing your own workload and proactive in gathering the information or support that you need.
To communicate effectively between your team and with other design professionals.
To be professional and well presented.
On site work experience will be beneficial for this role.
Things to consider
Must live within 1 hour regular commuting distance to London, we consider longer is not in keeping with a healthy work/life balance.
Have full eligibility to work in the UK – no work permit Visas areavailable.
This is primarily an office-based role working at a desk using a computer for most of the day – option to work from home.
We use AutoCAD for our drawings, TEKLA and ROBOT for analysis and design and the Microsoft Office 365 suite for emails, document writing, etc. You do not need prior knowledge of these, but you would be expected to learn the pieces of software quickly so prior knowledge of some design and drawing software is helpful.
Benefits
Blue Engineering offer all staff a wealth of benefits which we are continually seeking to improve. We provide: ability to buy more holiday, flexible working, interest free loans, the cycle to work scheme, matched charitable donations, financial coaching, access to the annual personal development fund, paid NHS prescriptions, eye tests, working from home support, two-week quarantine allowance, referral rewards, subsidised design and make projects, cross-company partnerships, 5-a-side football, an annual trip away and a fun Christmas afternoon party to top it off.
How to apply
If this is the role for you, please click here to book a test!