In this article, we will be looking at a day in the life of a second-year Structural Engineering Degree Apprentice. I am Arif, a second-year degree apprentice at Blue. You can follow my day in the video above and read about it in more detail below. There are typical and non-typical tasks that are carried out across the days at Blue Engineering.
A degree-level apprenticeship is an alternative pathway to developing the skills, knowledge, and attributes for a successful career. It provides the route to a fully funded degree level qualification and professional qualification from the Institute of Civil Engineers (ICE). The Civil Engineering Apprenticeship course lasts for five and a half years, and during that time, the role of a structural engineering apprentice varies and develops. The experience of an apprentice changes each year.
My day begins with a commute to the office, located in the vibrant Hoxton square. During my commute, I do some light read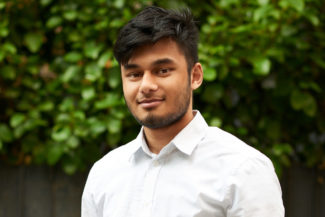 ing in preparation for the weekly business discussion group. The group is formed of team members, at different levels and positing within the company. The group comes together to discuss the themes of a chosen book and how they can positively impact the company.
I set up for the working day by going over my plan and amending tasks where necessary, which intertwines with scanning my emails. I particularly look for correspondence from architects or the Blue team regarding projects. I keep up to date with the dynamic office life, including upcoming staff socials or games night, for example.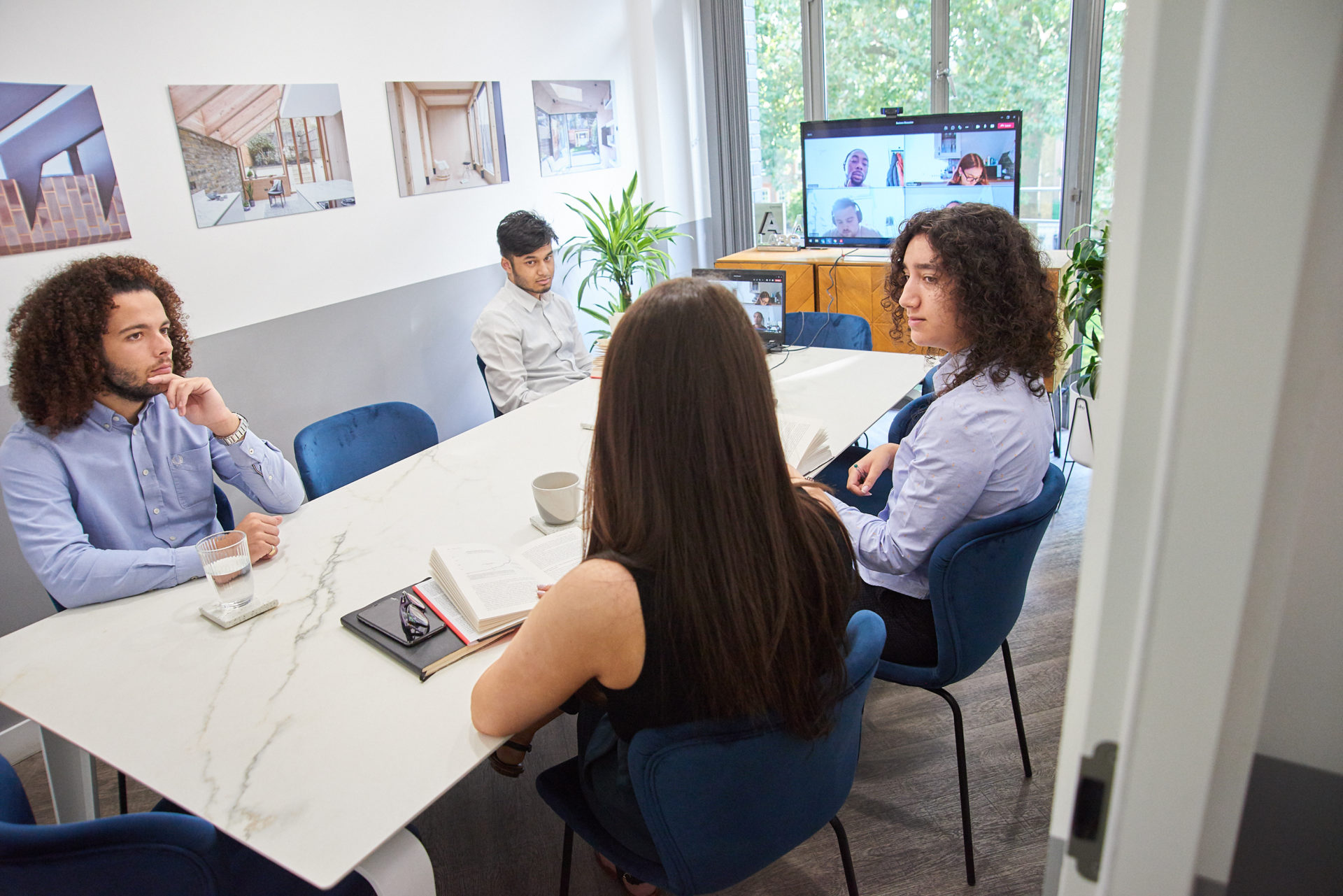 Each week on Friday, I create a plan for the following weeks, ahead of the Workload Meeting that takes place on Mondays. As a second-year apprentice, I have the responsibility of managing the team's workflow. I plan the workflow so that projects are completed in an orderly manner resulting in deadlines being met. By monitoring the workload of team members, I assign or reassign tasks where appropriate. The workload meeting gives the team a chance to share information on the status of current projects, any concerns or positive feedback, and team statistics.
Outside of the meetings, my schedule includes site visits, training, and ad hoc meetings. I mainly will be working on projects, which may be internal or external.
Internal projects are self-led projects which provide room for personal development and incorporate your interests into your role. They also help develop Blue, which means that you play a key part in shaping the company. My internal project currently revolves around developing AutoCAD work processes to make them more efficient. I work an agreed portion of my week tinkering with AutoCAD, testing macros and codes, and thinking of more effective ways to make things work. As the internal projects are self-led, you could be working on anything you enjoy, from software and sustainability to business and branding.
My project began after I took part in some training on C# – the programming language – during my first year and thoroughly enjoyed it. Blue provides in house training over a variety of subject matters. It may cover software like AutoCAD and Tekla to design theory and management. Currently, I take part in weekly sessions alongside other second-year apprentices, Understanding Structural Schemes and Design Work taught by Blue's Managing Partner, James Nevin.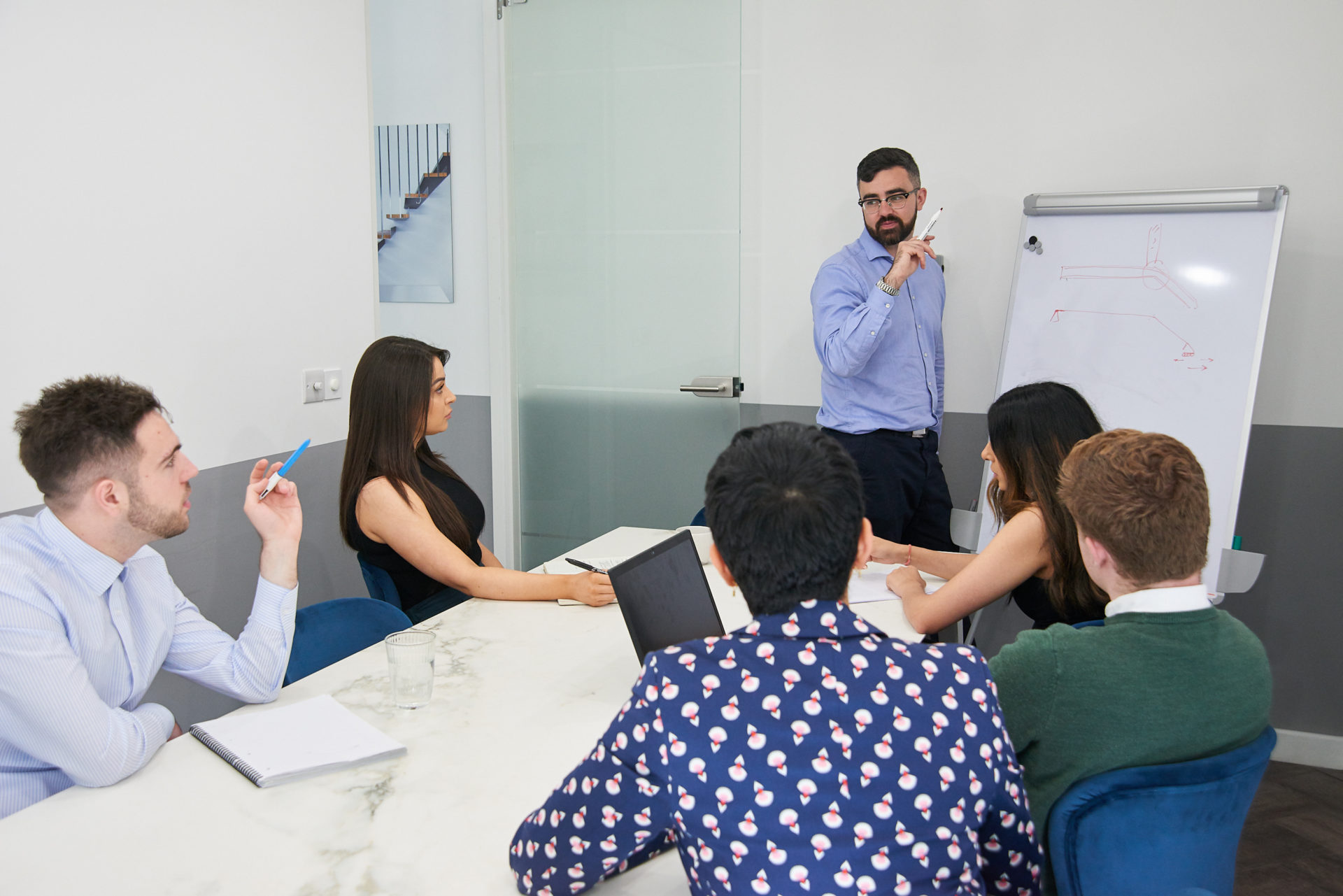 "Regular training sessions are given on a broad range of topics, which helps to put the theory you learn at uni into practice for real-life scenarios" Charles Hamilton, second-year Apprentice.
External projects are what we spend most of our time working on. These are the projects where clients come to us for our services and knowledge. Typically, we work on residential refurbishments: rear extensions, loft conversions, and chimney breast removals, to name a few. We occasionally work on more quirky projects, such as art installations.
If you are currently working on your home renovation or planning an art installation that requires structural engineering, email us at info@blueengineering.co.uk to talk through the scope of your work.
What would you do in a project?
As an apprentice, you will be examining the proposed plans from an architect and understanding the nature of the works. You will work alongside a design engineer who will provide you with a scheme and, using AutoCAD, you will draw plans, details and sections which explain what needs to be done to build what the architect desires. Plans show the general arrangement of a property as if you were to look at it from a bird's eye view. Sections show how elements would look if we were to 'cut' through them, showing the interior structure. Like sections, details show a 'cut' through of a specific region. Section and detail drawings provide greater levels of information for how a structure should be built.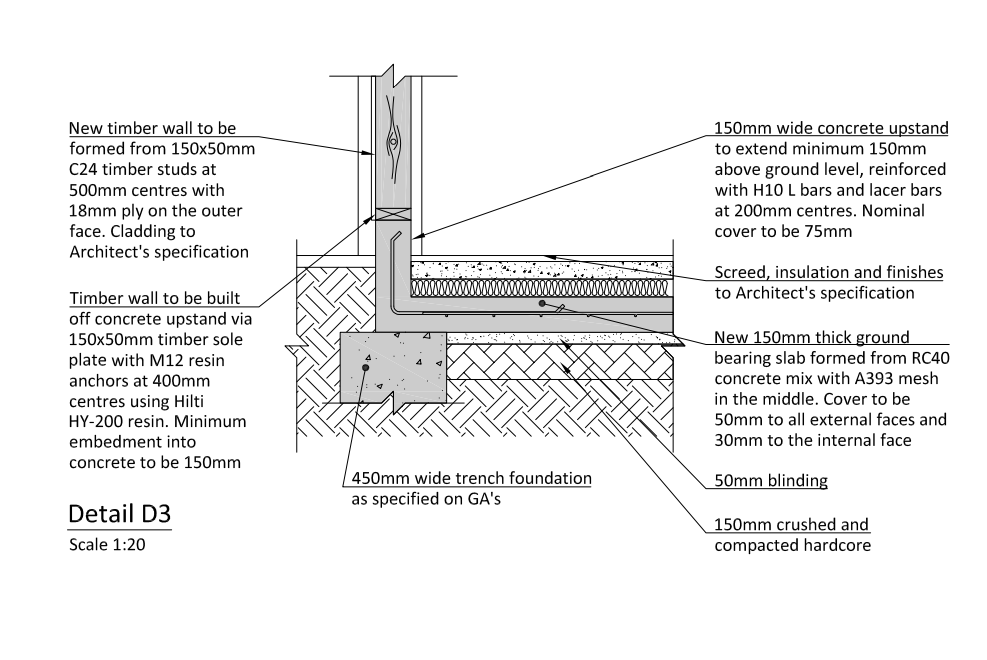 As every house is different, and architects and homeowners want a bespoke product, every drawing package you work on will have unique design elements and various methods for the structure. By the time you are in your second year, you would have been exposed to hundreds of different details and have strong knowledge of details and the ways structure works.
For their first two weeks, first-year apprentices are trained by older apprentices and engineers within the company. As a second-year apprentice, you will also be mentoring first-years, as well as ensuring drawing standards are upheld by checking and marking the work of more junior teammates. You will help to guide them in understanding details and structural elements by doing hand sketches.
"The responsibility of training the new intake of apprentices has been an insightful experience, seeing how differently people can learn the same things. It's also a commendation of the skills I've picked up over the last two years" – Saffron Rajham, second-year Apprentice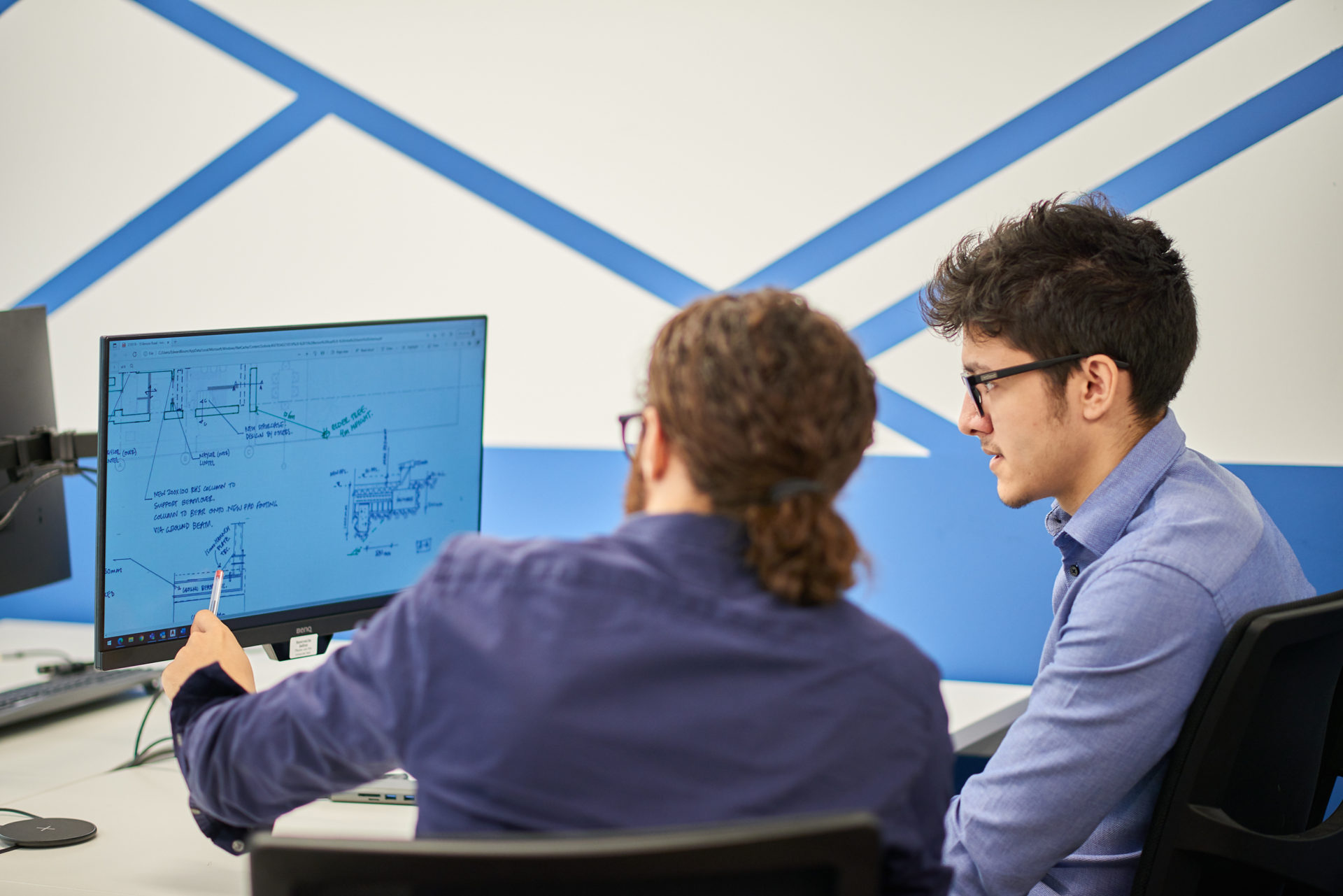 You will also liaise with architects, requesting and sending files, asking clarifying questions and responding to queries they might have to our set of drawings.
"Blue has encouraged and supported me to take on more responsibilities within my role, such as managing my team's workload and developing drawings standards for the company." – Harry Coppley, second-year Apprentice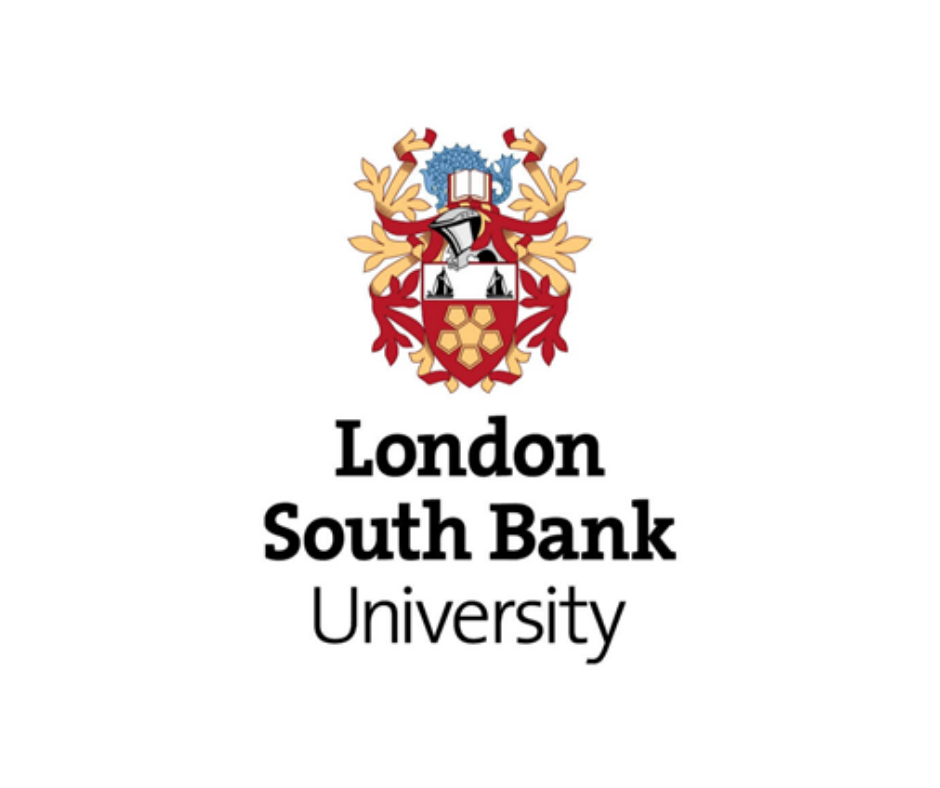 As a degree level apprentice, your time is split between university and work. Blue supports a 'day release' programme, the alternative being block release, which means during term time, you spend one day a week at university and the other four at work. Depending on the apprenticeship you take on, you will study at London Southbank University (LSBU). I study a BEng Civil Engineering degree, we cover an array of modules from structures and construction technology to fluid mechanics and geology. The day at university runs from 9 am to 5 pm with a lunch break and breaks in between lectures. Information about LSBU's course can be found here.
"In the second year, subjects you learnt about in University start to come up in training at Blue, and it's great to have two different sides to the story; the academic, and then the practical experience. This way, the learning is reinforced, and it becomes easier to visualise the problem and solution." – Saffron Rajham, second-year Apprentice
I find that the course complements what I do in my day-to-day job, and what I learn at university helps me develop my career and what I do at work makes the theory at university easier to grasp. There are some courses that have a clear correlation, like structures, and others where it is less pronounced. It's worth noting that the degree is a 'Civil Engineering' degree whereas the day-to-day role is focused on becoming a structural engineer, so the degree provides a greater breadth of knowledge. I take this as a positive since the degree exposes me to different specialities within the engineering field I wouldn't be shown to in my job, for example, dam designs.
An apprenticeship role is a dynamic role, and at blue, it can be tailored to your interests, so a day in your life as a second-year apprentice will be unique for you. You gain a wide range of experience, both on the job and at university, which can help accelerate your career and learning. You gain more responsibility, by mentoring the junior apprentices, working directly with architects and homeowners, and progressing each year. You also play a bigger role in your team and the company. It is a rewarding and exciting experience, seeing yourself progress but also knowing the impact you make, not only on people's homes but on the business too. Blue aims to nurture their team and as an apprentice, you are trusted and valued for the work you produce.
Read about the benefits of an apprenticeship here. Would you like to consider an apprenticeship with us?  We offer apprenticeships in different fields, if you find one that you believe would suit Blue Engineering, please email us at info@blueengineering.co.uk with your suggestion.  Check out our Careers page to view current vacancies.