During a recruitment period for Structural Engineering Apprentices at Blue Engineering, we were surprised by the lack of female applicants we received for the role.  This led to the question, why aren't there more women in structural engineering?  To explore this question, we looked at the engineering industry as a whole and it is a male-dominated sector.  From an early age, we are exposed to the ideals of gender stereotypes. Often, these stereotypes are based on what we think we know to be right. Girls are sold fairytales and all things pink. When you go to a clothes store, there are princesses, sparkles and unicorns on the young girls' clothes and dinosaurs, cars and robots on the boys'. Why isn't there a dinosaur or robot t-shirt in the girls' section?
What Does Structural Engineering Involve?
I spoke with the Apprentices and Structural Engineers at Blue. It is widely agreed that there is not a clear perception of what structural engineering is. Our tagline at Blue Engineering is 'We Make Things Stand Up'.  Structural Engineers work alongside architects, building contractors and other professionals to design the structure within buildings to ensure it is strong and safe, whilst still delivering the aesthetic and functional requirements. There are different elements involved in being a structural engineer: designer, risk manager, problem solver and communicator. A common misconception of structural engineering, and engineering in general, is that hands are getting dirty.
People expect the job to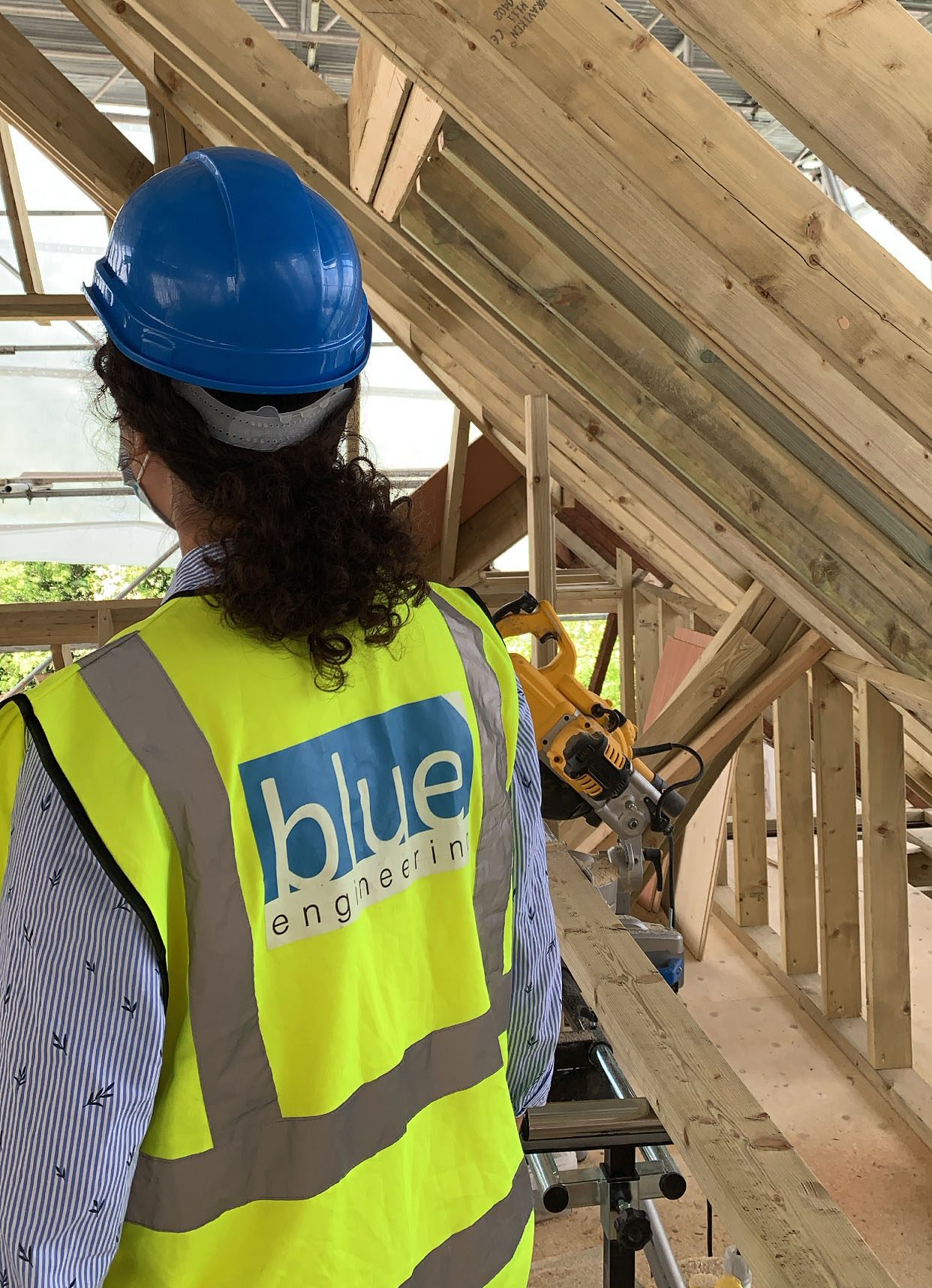 involve physical labour, however, this is not the case. A Structural Engineer collaborates with architects to ensure structural considerations are integrated from the early stages of building projects.
Using software such as AutoCAD and TEKLA, to produce 2D and 3D drawings is a large part of the job. These drawings are used by the contractors to ensure the structural forms like beams and foundations are correctly and safely put in place.
Ruth Etioloja, a Design Engineer at Blue Engineering described having fears of not being taken seriously as a female in engineering.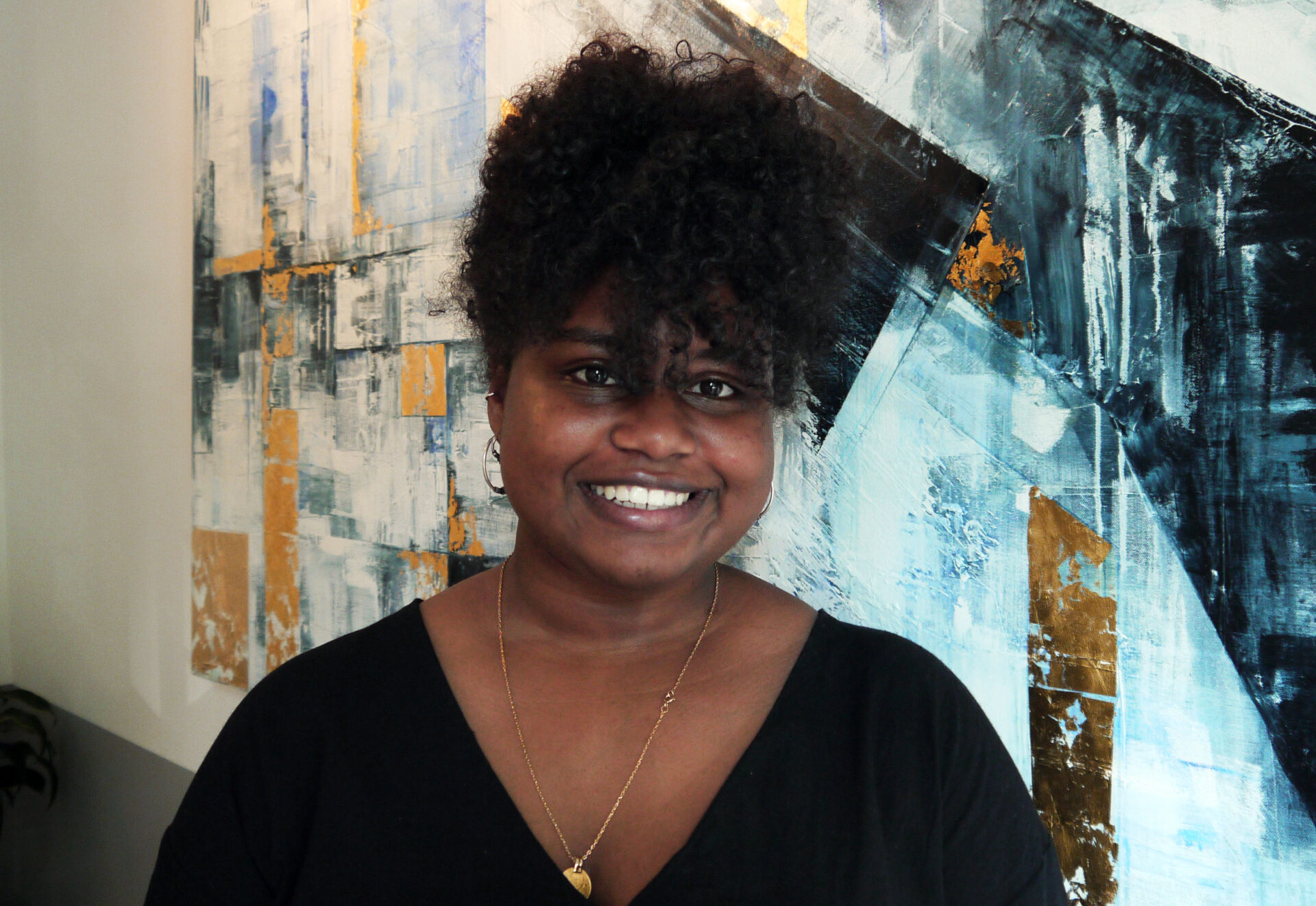 "There aren't many other females in the sector, when I studied engineering at school, I was the only girl in the class. At job interviews, as a woman, you had to try harder to be taken seriously. I know the colour of my skin also played a part. One experience I recall is not getting a job because they didn't think I would cope working on site, which is odd as I was enthusiastic to do so."
Those experiences did not stop Ruth, she continued to apply and eventually took on an Apprenticeship with us! Having completed her apprenticeship successfully, she was offered the position of Design Engineer towards the end of 2020; she has been with us for 5 years! More women like Ruth face being treated unequally to men in these sectors.  At Blue, we believe that women bring an analytical sensibility, creative way of thinking and solidity to the Engineering industry.
"There is a perceived notion that it is a hands-on job. When people hear engineering they imagine you have to get your hands dirty or carry out physical labour."

"There is ambiguity on what structural engineering is as there are so many types of engineering out there, even just within the construction industry."
Structural Engineering is design-based work, which runs in tandem with several other disciplines and people such as architects, steel fabricators and contractors. At Blue, we work from an office (and home) in small and efficient teams. After understanding architectural intent, we produce viable solutions to bring the architect's (and client's) vision to life. This involves modelling structures and producing technical drawings which explain how elements are put together. We also carry out site visits when appointed to understand the site and reduce surprises down the road, as well as during construction to ensure things are running smoothly.
"It is assumed that architects take the 'limelight' and are seen as more creative."
Architects and engineers have different creative freedoms. Engineering influences architecture and vice versa. Architecture can be misrepresented as solely being an Art;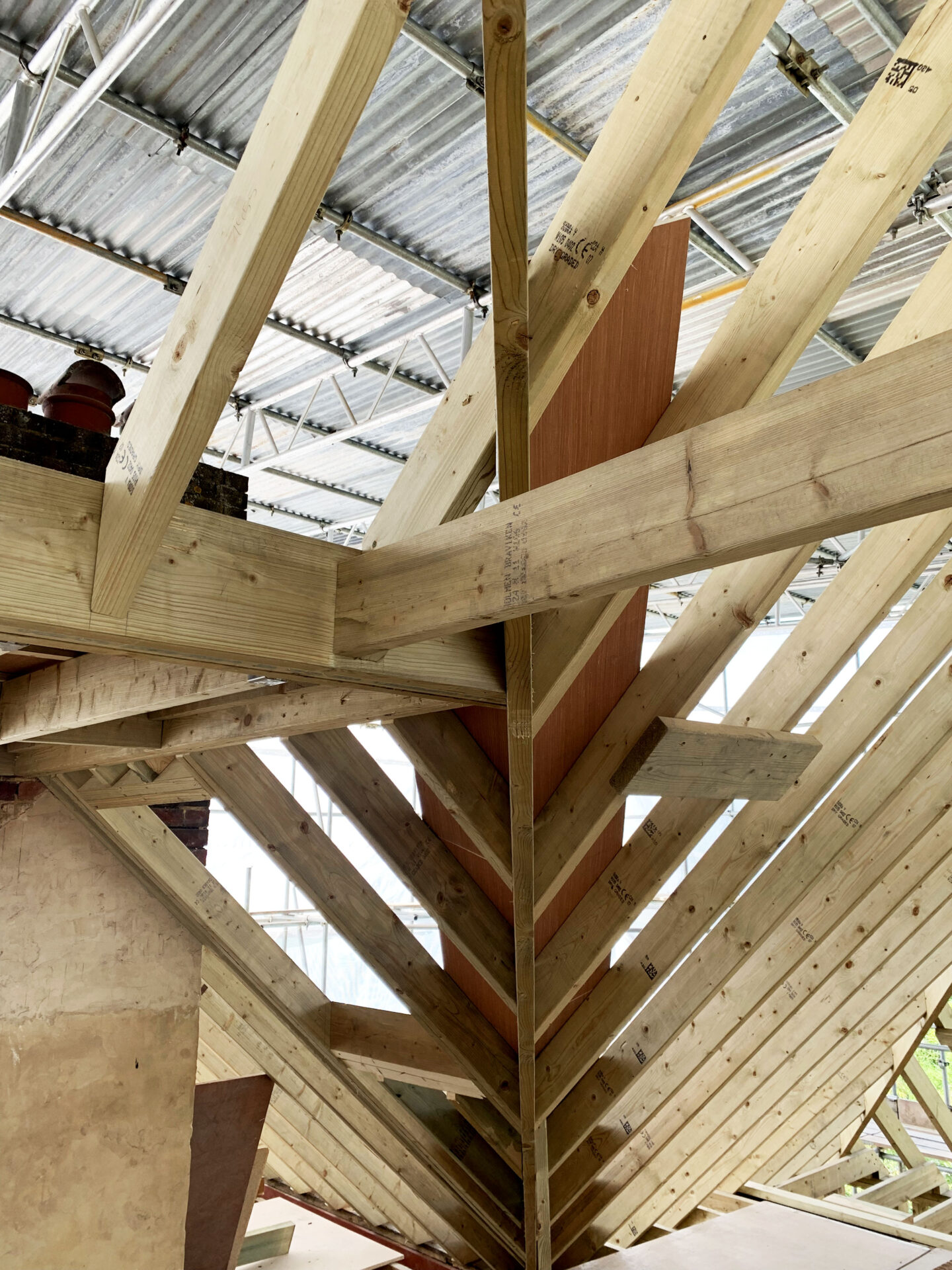 the technical aspects that architects deal with are often overlooked. Structural engineers are creative problem-solvers for technical issues. Engineers have
their professional bodies; the Institution of Civil Engineers (ICE) and The Institution of Structural Engineers (IStructE). There are a growing number of engineering awards, not to mention the recognitions engineers are credited for across established publications. Blue Engineering has been featured in publications such as Wallpaper*, Grand
Designs and the Architect's Journal but to name a few!
"There is a perception that you need to be proficient in maths."
Maths is important but you do not need to be a maths whiz getting straight A's. It's not number crunching with a calculator day in and day out or a requirement of advanced mental math ability. The use of software/technology accelerates the whole process.
"It is a male-dominated space and so the social element can be limiting for females."
"Building on the previous point, there may be cultural barriers. Certain cultures may dissuade women from applying to male-dominated industries."
From a recruitment perspective, gender stereotypes highly influence who are hired for jobs within all industries.   Shelley Correll, Professor of Sociology at Stanford University, explains that,
"… stereotypes function as a cognitive shortcut in information processing… Unfortunately, gender stereotypes function as one of those shortcuts and when they do, they introduce errors into our decision making." 
This is evident in schools too; although subjects such as maths and science are compulsory in schools, the percentage of female students who continue these subjects through to higher education is significantly lower than males.
What percentage of girls are studying STEM subjects? More recent studies from The Education Hub by the Department for Education shows that between 2011 and 2020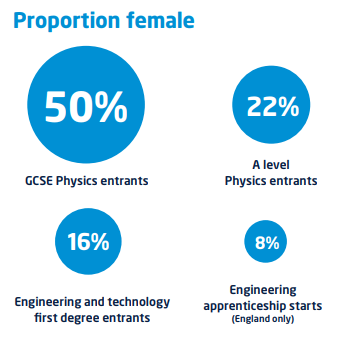 "… the proportion of women entering full-time undergraduate courses taking STEM subjects increased from 33.6% to 41.4%." It is great that there is an increase however it is seemingly slow. According to statistics recorded by the Women's Engineering Society, as of 2018, as few as 12.37% of women are engineers in the UK. More recent research by Dr Hillary Leevers, of EngineeringUK, shows that as little as 8% of engineering apprentices are female.
"Many of the reasons girls cite for their disinterest in engineering clearly reflect a narrow view of what a career in the industry can offer, alongside a belief that it is a masculine profession not in line with their perceived abilities or identity"
Where does this narrow view come from? It is not only the female students who are unaware of the ins and outs of engineering. Dr Hillary also addresses the influence that parents and teachers have on children and how their home life can replicate unconscious biases and gender stereotypes that exist in wider society.
At Blue Engineering we are actively seeking out female engineers and female apprentices to join us. This article is only one of the steps we have taken to address the lack of women in engineering. A big part of our communications is to ensure that girls are educated on what is involved in the job from an early age. We are arranging talks with secondary schools and girl's schools to speak with the female students in order to inform and raise awareness. We desire to also aid teachers and parents in understanding the industry so that they can better influence through their roles. It is our responsibility to spread the word about Structural Engineers and address the fact that more women should be working in the industry.
Another way we aim to inspire young female students to consider a career in structural engineering is by showing them relatable and enthusiastic role models. You can watch Ruth, Sam, Holly and Saffron, of Blue Engineering, speak about why they chose to do an apprenticeship in this video. They touch on why more women should join our Structural Engineering Apprenticeship and what life is like for them at Blue.
To answer the question: Why are there so few female structural engineers? Many different factors play into the lack of female engineers in structural engineering. From gender stereotypes to false and inaccurate assumptions towards what structural engineering involves, and what is needed to become one. The perception of the profession is outdated and we must influence female students to look beyond those misconceptions.  Structural engineering involves clear communication, good drawing skills and creative problem-solving.  It does not require physical labour or 'getting your hands dirty.'
More work must be done to establish a better, more informed understanding of what it takes to be a structural engineer.  Through promoting equality and inclusivity, and educating youth early on to shape their expectations, we can give women the self-belief that they are the right fit for a role in structural engineering. Women have the talent, capability and creativity to become successful and noteworthy Structural Engineers.
If you would like to learn more about becoming a Structural Engineer or to find out about our apprenticeships, click here.