If you are planning on improving your home through the means of adding an extension to your house, it is important to take into consideration the below ground drainage. Typically, most home renovation projects in London will require making an application to Thames Water to obtain a Build Over Agreement, which is proof that Thames Water has permitted you with the right to either build over or near a public sewer that is located within close proximity to the proposed works. Through this article, we will be explaining to you the key information you will need to know to apply for a Thames Water Build Over Agreement. We will be outlining why you may need one, what information you will need to prepare to apply, and the application process.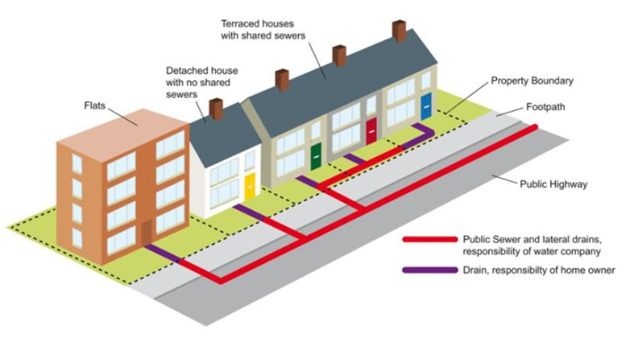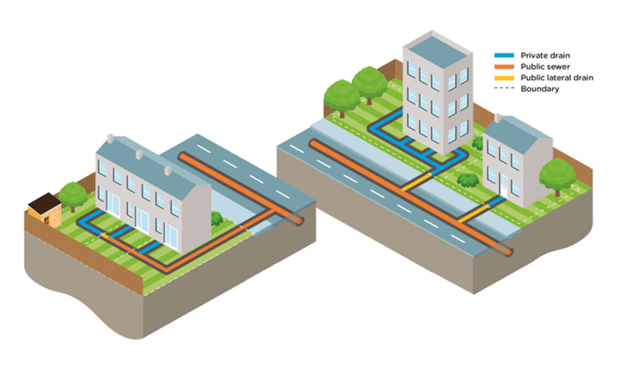 Figure 1 – Public vs private sewer
What is a Build Over Agreement, and why is it important?
The Build Over Agreement was established following a change in the law, in October 2011, stating that all new and existing sewers are to be adopted by the local water authority. This in turn meant that action needed to be taken to ensure these pipes are being protected, hence the Build Over Agreement was created. This helps to protect the pipes and helps to minimise the risk of pipes being crushed by new structures that do not consider the drainage runs they may be sitting over. 
There are two types of build over agreements: Self-Certified Build Over Agreement and Approved Build Over Agreement. A Self-Certified Build Over Agreement will be granted if the building proposes low risk to the public sewer, this is usually free of charge. If there are any unknowns to the case or if the public sewer measures more than 160mm in diameter, you will be referred to apply for an Approved Build Over, which has a fee attached to it. These fees are outlined in the Thames water build over agreement guide and are based on the diameter of the sewer pipe.
If building over a public sewer has been carried out failing to meet the requirements or to notify Thames Water through the means of a Build Over Agreement if any issues occur with the drainage along this line Thames water would have the right to demolish any new structure necessary to fix the pipes and they will not be accountable for the damage. 
Do you need to know more information on your drainage pipes? Send us an email at info@blueengineering.co.ukand we can arrange a CCTV survey for you that will provide you with all the information you need to get started with a drainage design.
What do you need for a Build Over Agreement?
For a typical standard Build Over Agreement, you will need a minimum of three documents. Firstly, you will need a site plan. This is like a bird's eye view of the property; it provides the context of your property in relation to other properties on the street. It also shows the boundary of your site and the works that may have been carried out on neighbouring properties which gives the water authority a good indication of the area.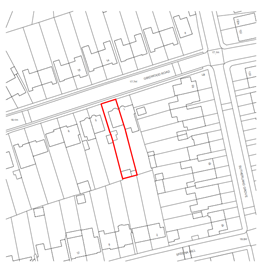 Figure 2 – Example of a site plan
Secondly, you will need a ground floor plan which has all the relevant drainage information indicated, such as the direction of flow in the pipe, the location and invert levels of both the proposed and existing pipes including any manholes and/or inspection chambers.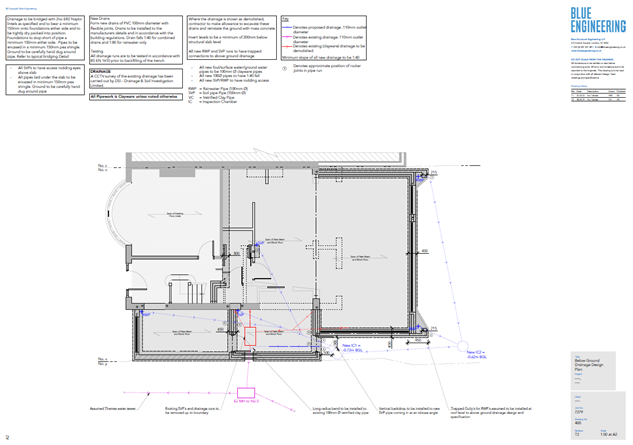 Lastly, you will need to include a section of the proposal. A section is a view of the structure as if it has been sliced in half to give you an alternative view of the space and get an idea of the levels from a different perspective. This should be a section showing the bridging detail for a build over. If you are building close to a public sewer then this will need to be a section indicating the location of the pipes in relation to the foundations.
Are you looking for an architect? We know many! Email us at info@blueengineering.co.uk and we will send you some suggestions. Is your project ready to start? Call us on 020 7247 3811 for a quote on your drainage design.
How do I apply and pay for a Build Over Agreement?
You can apply for both types of build over agreements through the Thames Water website, in their developer's tab. It is simple to fill in; you will be asked for a series of details and then requested to attach the three relevant documents, as described above. It is also possible to apply via post, the details for postage are all on their website.
The payment comes at the end of the submission; you will be given a reference number starting with 'DS' you will need to make note of this. You can pay straight away using the form on the website when the application is submitted, or if you are filling this out on behalf of someone else, they will need the 'DS' reference number to pay.
The next stage, if the application wasn't paid online, will be to pay for the application. You can either phone up and quote the reference number, or make it through a bank transfer; the details can all be found on the Thames Water website. It is important to note that the application can take up to 24 hours to appear on Thames Water's system, so if you are phoning to make a payment, you should call back a day after the application is submitted to check the payment was successful.
In conclusion, if you are planning on building an extension, it is important to factor in the possibility of needing a Build Over Agreement. For this, you will need to get a CCTV survey if you do not have one already. This will show you where pipes are running within the property and will show if you have a shared drainage run, and therefore need to apply for a Build Over Agreement. There are three documents you need to make an application: a site plan, drainage plans, and a section detailing the proposed works that are near a shared pipe. It is easy to apply via the Thames Water website, please find the link here to make an application. 
If you would like to read further into what is required for a Build Over Agreement, please refer to the Thames Water building over or near a sewer guide.
If you would like us to apply for the Thames Water BOA on your behalf, please call us on 020 7247 3811 to speak to a team member or email us at info@blueengineering.co.uk.