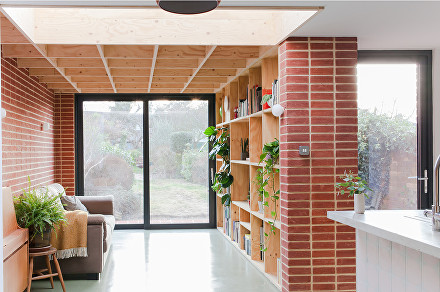 Hive House is a project we collaborated with on with nimtim architects.  It was featured in 'Dezeen Magazine' for its unique and creative extension.
The existing ground floor of this Edwardian terraced house was reconfigured to connect the interior and long, narrow rear garden.
The clients wanted a space that would be comfortable to inhabit a family and be flexible for people to have space to themselves.
To reduce steelwork costs, exposed plywood was added to the structure, which was then clad in a red brick skin to match the masonry in the front of the terrace. The doors and windows are a simple dark grey aluminium frame, and are topped with fascias in patinated lead that offered a more affordable solution than creating a brick soffit.
To check out the project featured on Dezeen magazine website, please click here: